Course Description
If you are a chef, or a culinary professional, who is interested in pursuing the teaching of culinary arts, then this course is for you!
Or maybe you are currently an adjunct instructor, or even a new, full-time secondary or post-secondary culinary arts faculty member; regardless, I believe this course will even provide you with some of the tools and techniques that are essential for being an effective teacher from day one in each of your classes or labs!
This online course is a study of the methods, tools and techniques employed in facilitating the teaching and training of culinary arts.
The knowledge and skills necessary for the professional role of an instructional specialist, such as a teacher, facilitator, or trainer, are emphasized throughout this course.
Concentration is placed on the preparation and the process of delivering effective teaching and training activities for both formal and informal teaching situations, including classes, courses, workshops, seminars, and presentations / demonstrations.
Are You Ready To Begin & Transform
Your Teaching Career?
Your Teaching Journey…
Many instructors begin their teaching career with a considerable amount of subject knowledge and limited pedagogical training. Teaching a class for the first time can be a daunting task for anyone. Some individuals are able to adapt fairly well to the requirements of teaching, while others become disenchanted with the many responsibilities and demands and decide to leave the profession. Other instructors who might have been able to excel in the classroom never reach their full potential because of limited preparation in teaching methodology and classroom management.
This course was designed to be a resource for both new and "seasoned" culinary instructors. The course addresses the many issues related to student learning and instructor effectiveness including lesson plan development, suggestions for successful lectures, active learning techniques, motivation and student engagement strategies, methods for facilitating discussions, assessment, tests and evaluation practices, grading tools and rubrics, classroom management, and so much more!
Your Host, Teacher, Guide
Dr. Colin Roche, CEC, CCE, FMP, CHE
Chef Colin Roche has been in the hospitality field for over thirty-five years and has multiple degrees in this discipline. He is also an award-winning educator who is a member of numerous professional organizations. Dr. Roche's certifications include the American Culinary Federation's "Certified Executive Chef" (CEC) and "Certified Culinary Educator" (CCE); The National Restaurant Association's "Foodservice Management Professional" (FMP); and the American Hotel & Lodging Educational Institute's "Certified Hospitality Educator" (CHE).
Dr. Roche is also co-author of the book "Culinary Educators' Teaching Tools & Tips" (Kendall Hunt, 2014). His area of research interests includes culinary and hospitality education, tertiary education (teaching, learning, pedagogy, and assessment) and the scholarship of teaching & learning (SOTL). He also lectures and consults for schools and businesses across the United States and hosts his own YouTube channel titled "DrProfessorChef" (http://bit.ly/DrProfessorChef) and an educational podcast titled "Chef Educator" (https://chefeducator.buzzsprout.com)
Degrees:
AAS, Culinary Arts, Newbury College
AAS, Hotel Restaurant Management, Southern Maine Community College
BS, Hospitality Management, Lynn University
MBA, Hospitality Administration, Lynn University
PhD, Higher Education Leadership, Florida Atlantic University
Recommended Textbook
Though not required for this course, the textbook is highly recommended. Not only is it a valuable reference that you will use throughout your career but is also the textbook Dr. Colin Roche uses in his face-to-face classes when he teaches this course in person on campus.
Published by Kendall Hunt, more information on the book, such as a table of contents, pricing, formats and how to order, can be found on their website by clicking this link:
Frequently Asked Questions
Questions You Might Be Asking …
Will it work for me?
If you are serious, qualified and ready to put some effort into it, then very likely yes!
What if I want a refund?
No problem. We stand behind our training 100%. Send us an email with your request.
When does the course start and finish?
This course is "evergreen" which means you can enroll at any time.
Will I get access to the full course all at once?
Yes you will get full instant access immediately.
Can I pay with PayPal?
Yes! When you go to check out you can pay with a credit card or PayPal.
Now Is Your Time
Invest in yourself today!
Will you join us on this learning journey that numerous people just like you have undertaken with great success?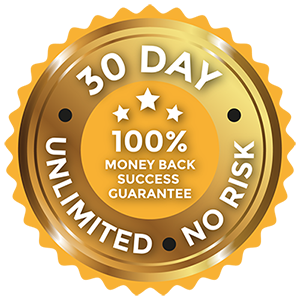 100% No-Risk Guarantee
Your purchase is backed by our 30-day 100% money back "Love It or Leave It" guarantee
---

Pay In Full Plan
Full Course Access

Save over 16% by paying in full at enrollment
Payment Plan
per month for 3 total payments
1 year of access
Full Course Access

Pay for the course in 3 easy monthly payments of $39.99!
Course Plus Private Coaching Plan
Full Course Access
Private Coaching / Advising Sessions (30 minute, one-on-one Zoom call every month for 6 months with Dr. Colin Roche)
Signed copy of the book "Culinary Educators' Teaching Tools & Tips"
Introduction
This section does not have any lessons.
Creating and Maintaining an Effective Environment for Student Learning 
Techniques of Instruction
Assessment and Grades
Laboratory Classes & Instruction
Conclusion & Next Steps